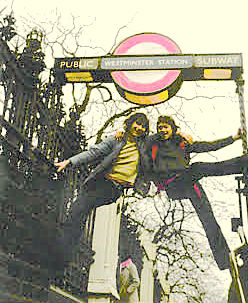 écrire une cérémonie laïque pour un couple est un voyage ! Je lis dans le texte d'une amie de la mariée, amie et témoin, qu'elles ont beaucoup "bourlingué" ensemble.
Ce joli mot de "bourlinguer" m'a bien fait voyager dans le passé. Il m'évoque la jeunesse, un mélange de "bourru" et de "lingue", la parlotte, les longues palabres au café des étudiants ... on y rentre, on pose brutalement son sac en commandant un café et le temps n'existe plus !
En fait, l'étymologie n'a rien à voir avec mes divagations et le Littré indique que c'est un terme de marine :
"Fatiguer en parlant d'un bâtiment qui lutte contre une grosse mer"
Mais n'est-ce pas ainsi que nous sommes parfois dans nos vies - et surtout dans nos jeunes années ? Un bateau luttant dans de gros flots ?
writing a wedding celebration for lovers is also a journey !
I read a testimony of the maid of honour and a word jumped out at me : unusual  and tasty word ; "bourlinguer" -
It reminds me so much of my own past !
Things like youth, a combination of clumsy (bour) and long talks (lingue) in these student cafés ... You get in, see your friends and throw your grey bag on the table asking a coffee ... time did not exist anymore !
In fact, the true etymology of "bourlinguer" is very far from my own ramblings and the serious Littré tells me that it is belonging to the marine-world :
"bourlinguer : a boat that struggles in the stormy sea"
But, isn't it how we are in our lifes - and mainly in our young years  ?
A boat fighting in large floods ?