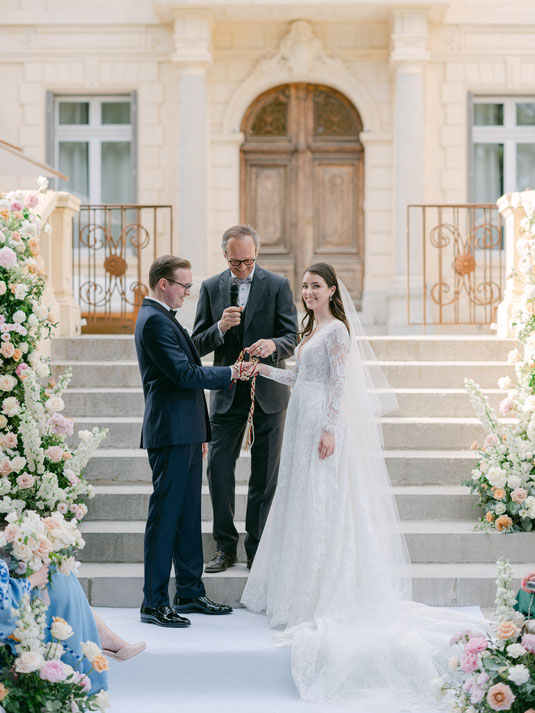 .... to the magical Provence !
Here is how Sofia and Jan made their amazing way of love to celebrate their engagement surrounded by those who love them, families and friends.
They need of course a very efficient and creative team to built their wedding dream and @amoroevents was their whiz !
And  for our greatest joy, (like a milestone for us after having created 200 unique and bespoke ceremonies),  their wedding is featured by the unique Style Me Pretty !
They also needed to be told and celebrated with magical flows in English with some Flemish and Russian touch and we did it again !
What do they think about our work ? :
Wow! Luc spent several hours with us to craft a beautifully written and very personal story that was loving, warm and humorous. We couldn't have asked for a better ceremony and received only positive feedback from our guests
Sofia & Jan
Event Planning & styling: @amoroevents
Wedding Venue: @lechateaudestroisfontaines
Photography: @thomasaudiffren
Second photographer: @andreamarinop
Filmmaker: @jinoagnelli
Floral Design: @lablondeetlebarbudesign
Live Music & DJ: @theartistslive
Catering: @helentraiteur
Creation Ceremony and celebrant: @celebrantissimo
Wedding planner assistant: @despinoywedding @lunasommer_weddingplanner
Chandeliers: @phos_events
Rentals: @maison_options @jolibazaar
Champagne & wine: @pepites_de_vin
Stationery: @cmo_studio
Muah: @muabyjulia
Cake: @lesdelices2gladys